Labrot and Graham Woodford Reserve Kentucky Bourbon
Woodford Reserve, one of Kentucky's Oldest Distilleries
Today the Kentucky distillery is one of the oldest of the nine bourbon distilleries currently in operation, even though the site was not in operation for several periods during the past 237 years. Founded by Elijah Pepper in 1780 and run by the Pepper family for almost 100 years, the distillery found a successor in Leopold Labrot, who with Graham brought the facility and the brand successfully into the 20th Century and eventually to Brown-Foreman producing Woodford Reserve by 2003.
Does the name look familiar, it should? Yes, Leopold Labrot born in France in 1847 is Lawrence's great-great grandfather. Leopold Labrot grew up in wine growing areas of France and was a wine merchant when he came to the United States. Is it any coincidence that we now work and photograph weddings and events in California's most famous wine counties, Napa and Sonoma?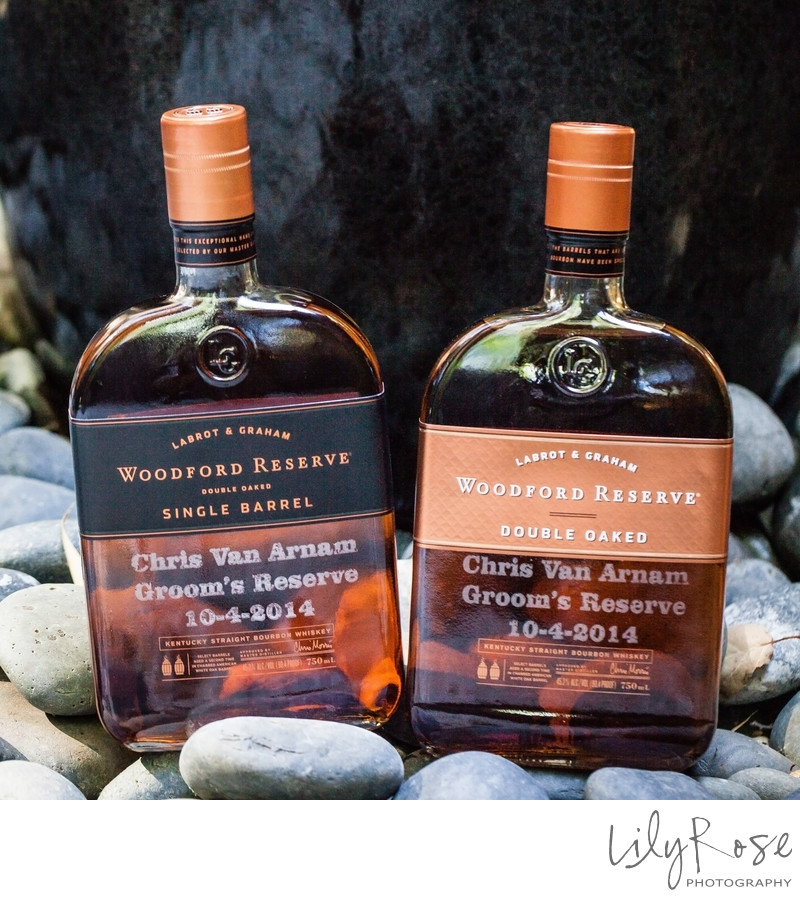 The Labrot and Graham distillery holds the distinction of being one of the oldest and smallest working distilleries in Kentucky. Established near Glenn's Creek by Elijah Pepper around 1812, the present day Woodford Reserve Distillery is built on history. This historic distillery is nestled amid the rolling hills of bluegrass and thoroughbred farms, formerly known as the Old Oscar Pepper Distillery and later the Labrot & Graham Distillery, is located between the towns of Versailles and Frankfort in north-central Kentucky. In 1995 it was listed on the National Register of Historic Places, and in 2000 received National Historic Landmark distinction. Contract arrangements with Churchill Downs has declared Woodford Reserve the "official bourbon of the Kentucky Derby" and is used in a $1,000 mint julep available on Derby Day.
Drinkers prized the Bourbon from the Labrot & Graham distillery, and Mark Twain was even know to be a fan.
Distillery Timeline
1780: Elijah Pepper founded
1812: Elijah Pepper and his brother-in-law both operated the distillery in Versailles
1817: The partnership dissolved and Pepper moved the distillery between the towns of Frankfort and Versailles, Kentucky.
1820: James Crow started as the distiller
1838: Elijah's son,Oscar inherited the distillery and established the Old Oscar Pepper brand. Crow's expertise ensured that the brand's success
1864: Oscar Pepper passed away and E H Taylor Jr. handled the estate, as his son James E Pepper was too young.
1874: Taylor rebuilt the plant and continued operations.
1878: The distillery was sold to French wine merchant, Leopold Labrot and James H Graham of Frankfort. Labrot was in charge of sales and Graham managed the plant. They continued producing Old Oscar Pepper as their only brand until changing it to Labrot & Graham.
1892: Insurance records suggest the distillery was built of stone with a metal or slate roof and being operated as Labrot & Graham. The property included a granary with two corncribs, plus four bonded warehouses, all stone with metal or slate roofs.
1900: Graham passed away; however, Labrot continued distillery on his own.
1911: Leopold Labrot passed away and its corporation succeeded the company.
1915: Labrot & Graham were succeeded by Labrot & Graham Inc., a new company consisting of T W Hinde, D K Weiskopf of the Republic Distributing Co. (Old Republic) in Cincinnati, Richard Alexander Baker (husband of Irma Baker, Labrot's daughter), and cousin to E H Taylor Jr., and Carl Weitzel.
1918: Prohibition closed the distillery; Frankfort Distillery sold stocks of whiskey for medicinal purposes.
1935: R A Baker and others, operating as Labrot & Graham, rebuilt the distillery
1940: The distillery was purchased by Brown-Forman and sat idle for many years
1972: Sold to Freeman Hockensmith to make industrial alcohol in 1972.
1994: Brown-Forman re-bought the site and started small batch whiskey
2003: Refurbished and re-opened under the leadership of Lincoln Henderson as the Woodford Reserve Distillery.
2013: Awarded Double Gold Medal by San Francisco World Spirits
2012: AwardedGold Medal by San Francisco World Spirits
2012: AwardedGold Medal by IWSC
Location: Squaw Valley, CA.
Lily Rose Photography © 2023 - (707) 603-9062 Address: 1055 Broadway, STE. E1, Sonoma, CA 95476 debbie@lilyrosephotography.com Privacy Terms of Use