REVIEWS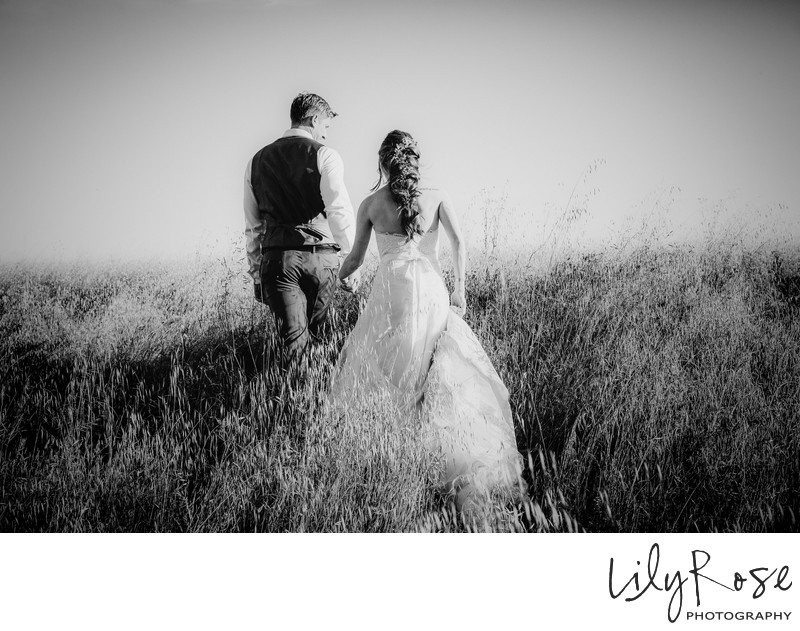 ---
Venue: Villa San Juliette, Paso Robles, CA
Lily Rose Photography perfectly captured our wedding day. We had a medium-sized ceremony and reception at beautiful Villa San Juliette and we had the joy of having Lily Rose with us the entire day. Lily Rose was able to get romantic shots of our awkward selves with clear and fun posing instructions, wrestle a wide range of family and friends, and documented the small details of our venue. We feel like we can now relive both the events and emotions of our special day at any time due to Lily Rose's professionalism and creativity! We are forever grateful!
Stephanie and Brett, Wedding: 7/9/22
---
Venue: Jacuzzi Family Vineyards, Sonoma, CA
We could not recommend Lily Rose Photography more. Debbie captured every element of our wedding day beautifully - our loved ones, the feelings of joy, the little details, the grandeur of the venue, and more. She knew exactly how to frame photos and direct us to create the most flattering and natural images. I can't believe how good she made us look! Even the photos taken in the low light of our indoor reception turned out flawlessly.
Not only do we have gorgeous mementos for our wedding day, but working with Debbie was an absolute pleasure. She is a total professional and expert wedding photographer. During a meeting before the wedding, she noted that our preliminary timeline might be tight, and suggested taking some portraits and wedding party photos at our "getting ready" location since we couldn't go to the venue until a certain time. I'm so glad we listened to her advice, as making those changes resulted in a very calm and relaxing day while capturing all the photos we wanted. She was also extremely efficient, somehow learning the names of all our immediate family members and large wedding party in order to call people in and out of photos while being very sensitive to family dynamics. Throughout the planning process and wedding weekend, she was responsive and punctual, and she even delivered our photos earlier than expected after the wedding!
Having a great photographer was important to us, and we're so happy with our decision to work with Debbie. It is so special to relive the day through her work. We will absolutely reach out to her again if we have any future photography needs.
Jesse and Josh, Wedding: 6/4/22
---
Venue: Seven Branches Venue and Inn (Formally Ramekins), Sonoma, CA
Debbie and Larry are amazing photographers. They covered two of my best friends' weddings so when it came time for mine, it was an easy decision! They are detailed oriented, professional, and personable. All our family and friends were impressed by their work as well! Their quality of work is next level and we couldn't be happier! Thanks so much, Debbie and Larry!
Rhonda and Ryan, Wedding: 8/8/20
---
Venue: Swedenborgian Church, St. Francis Yacht Club, San Francisco, CA
One of the easiest decisions we had to make for the wedding was hiring Debbie and her team at Lily Rose Photography. I had worked with Debbie at my best friend's wedding the year before and she made the process of taking wedding photos so easy and fun for us! I loved her work so hiring her for our wedding was a no-brainer. Debbie and Larry made us feel so comfortable during our engagement shoot and our photos turned out so beautifully.
On our wedding day, Debbie and Lindsay were a perfect duo. Debbie helped try to keep us on schedule with photos and handled any schedule changes like a champion all while capturing amazing photographs along the way. Lindsay make the guys feel so relaxed and took amazing shots throughout the day and got so much of everyone's personalities to show. I look back at our photos of our wedding day so fondly and it brings both a smile and a happy tear to my eye every time I go through our pictures. I can't recommend Lily Rose Photography enough!!
Reese and Anthony, Wedding: 9/21/19
---
Venue: Sonoma Golf Club, Sonoma, CA
It was such a pleasure working with Debbie and Larry! We're so glad we chose Lily Rose Photography for our special day. They are true artists and very easy to work with! They took a large variety of pictures throughout the day and captured all the candid and touching moments. Debbie even printed out a few photos with a Polaroid printer and gave them to us on the same day for a "sneak peek"! I can't recommend them enough!
Yilun and Magai, Wedding: 9/8/19
---
Venue: Viansa Sonoma, Sonoma, CA
Lily Rose deserves 10 stars! Hiring them to be our wedding photographer was the best decision I've made for the wedding. They are impeccable with their professionalism and patience. Took thousands of breathtaking photos, it's hard to decide which to print because they're all great. They made everyone feel at ease even if we don't know how to pose for photos and a good amount of family members don't speak English. Also, their little touches such as giving us printouts of some photos at the end of the wedding night and the digital images came in a beautiful box with selected fine art prints. Oh, we received all proofs within 2 weeks of the wedding and received all digital files within 3 weeks of the wedding. They are wonderful beyond words. I wanted to hire a good photographer for our wedding but we ended up hiring The Best photographer I can ever ask for. Thank You Debbie and Larry for capturing our special day in the most beautiful way. I don't remember much from that day, but I have these moments, and seeing them makes me sooooo happy!
Lily and Jake, Wedding: 8/31/19
---
Venue: Viansa Sonoma, Sonoma, CA
My son's wedding was 2 days ago and everyone involved commented about the photographers and how professional they were especially in a chaotic situation. It was 90 degrees and they took as many of the photos in the shade or in air-conditioned spots. They gave specific instructions to family members on how to stand, and they were great with children and older relatives. I know the photos will be extraordinary because of their focus on detail and how comfortable they made people feel.
Barbara (mom) Wedding: 8/31/19
---
Venue: Calistoga Ranch, Calistoga, CA
Hiring Lily Rose (Debbie) was without a doubt one of the best decisions we made when it came to our wedding. Debbie was so helpful and thorough throughout the entire proposal and planning process with our many questions, and on our wedding day she and her team were nothing short of spectacular. They over-delivered and went above and beyond- bringing in extra help and then being consistently on the ball from the beginning of the day until the end. Her temperament, approach and humor is ideal to have around you on your wedding day. She gets things done efficiently without being disruptive, she is thorough and makes sure she's getting every photo and more on your list. She handles all situations well with family, friends, bridal party etc., and I can't recommend her enough for your photography needs. She sent us our photos after our big day within a matter of days - when we were on our honeymoon which was fun to see them and review them together there. When I saw the photos - I couldn't believe how amazing they were. She captured the big moments, the little moments, the moments I didn't remember as the day goes by so quickly. Hire her if you can!!!
Lizzie and David Wedding: 08/10/19
---
Venue: Ragged Point, Big Sur, CA
I can't recommend Debbie and Larry highly enough! It was truly a pleasure to work with them, and the photographs of our son's wedding are simply stunning. Debbie and Larry are true artists. They captured a huge variety of wedding moments, from romantic shots of the wedding couple to large family groups, in a way that was original, fun and stress-free. Their photography took advantage of our beautiful outdoor location and made a special day look and feel truly magical. Everyone who has seen the photography has been blown away by the quality. Don't hesitate to hire them. We will treasure these photos forever.
Pam (mom) Wedding: 6/22/19
---
Venue: Beltane Ranch, Kenwood, CA
Professional and timeless photography! Debbie & Larry were so professional, personable, and they both take beautiful photographs. I think often in the wedding photography industry you get a second shooter who may be newer or still learning the ropes, but Debbie & Larry are individually amazing & talented photographers with so much experience.
Asif, Wedding: 5/8/19
---
Professional: Monterey, CA
Most photographers haven't received the kind of training and experience as Debbie of Lily Rose Photography, she is truly an artist behind the camera. Take a look at her portfolio and you'll be amazed at the quality and consistency of her imagery. If you are considering hiring Lily Rose Photography to capture your most cherished memories, you better do it quickly because her dates fill quickly for good reason!
Manuel
---
Venue: V Sattui, St. Helena, CA
Overwhelmingly amazing, exactly the right fit for us!! Debbie and her team were pure joy to work with. Her experience and calm/thoughtful demeanor made everything so easy. I can honestly say I had zero stress about our photos the day of our wedding. It took us a while to get comfortable for the camera, but eventually Debbie helped us get there. We couldn't have asked for anyone better, and I doubt you'd find better out there! Thank you for everything Debbie - everything was very much appreciated!
Katherine and David, Wedding: 4/28/19
---
Venue: Cornerstone Sonoma, Sonoma, CA
"Professional & Timeless Photography Debbie & Larry were so professional, personable, and they both take beautiful photographs. I think often in the wedding photography industry you get a second shooter who may be newer or still learning the ropes, but Debbie & Larry are individually amazing & talented photographers with so much experience. They went above & beyond for our engagement session, and we now have the most breathtaking photos to display in our home. We also felt so comfortable photographing with them on our wedding day (and my husband hates being photographed!) They did a great job of coaching us while still looking natural and candid. I had researched a lot of photographers who had done weddings at our site, and they had hands down used the unique setting better than anyone else. We highly recommend Lily Rose Photography to any bride & groom to be! (Just look at the photos, they speak for themselves!)"
Mari and Pieter Wedding: 10/13/18
---
Venue: Kunde Family Winery, Kenwood, CA
"Debbie is SUCH an incredible photographer, she's truly an elevated breed of talent and professionalism. I don't even know how I can express how happy we were that she was a part of our big day. First off, she has such a great demeanor about her - although I typically get uncomfortable in photos, she made me feel completely relaxed on the day, and kept the photos natural and candid. I loved that our photos weren't posed or forced, and she knew all the right angles and directions to give us so that the pictures came out absolutely stunning. She's also got a great eye, and didn't miss a beat. Every moment that we had throughout the day was perfectly captured from every direction. Her artistic style really brought across the elegant and rustic vibe that we were looking for. On top of all of that, Debbie went above and beyond to make us feel truly special. She prioritized capturing every moment of our day, rather than asking us to pay more for extra hours. She not only came to do a shoot at our rehearsal but also came to the bar where we had drinks afterward to get a few more shots the day before the wedding. At the wedding itself, she gave us a small package with a sample of Polaroids of some of our best photos to send us off. She also sent us to sneak peeks on Whatsapp immediately after she captured some great photos, and it took only a few weeks for her to deliver all the final photos on her website - most of my friends had to wait months to get their photos! Lastly, Debbie is so digitally savvy, everything that she does is so efficient but still delivered at tip-top quality. I would hire Debbie for any big event we ever have again, she's hands down the best photographer we've ever worked with."
Dierdre and Kevin Wedding: 8/18/18
---
Venue: Meritage Resort and Spa, Napa, CA
"We had the pleasure of working with Debbie and Larry at our wedding in Napa. They were really incredible photographers - we could not have been happier with our photos. They did such a great job of getting a wide variety of shots, capturing all the details, and making creative suggestions. Plus, they managed to get the photos over to us very quickly!

It can be really hard to take it all in on the day of your wedding and looking at the photos later really helped us relive and appreciate all the magical moments.

Thank you so much Debbie and Larry."
Nadine and Ossama Wedding: 7/7/18
---
Venue: Ramekins Culinary Institute, Sonoma, CA
"Lily Rose Photography, simply the best!! Lily Rose Photography did our engagement and wedding day photos and we couldn't be happier. Debbie and Larry were awesome to work with, they quickly got a feel for who we were and what photos would work best for us and they captured our day perfectly. Not only did they take some amazing photos but they were both really fun to work with and they made this part of our wedding really easy and enjoyable. They completely exceeded our expectations and we definitely recommend working with them. Thank you so much Debbie and Larry!!!"
Dana and Beau Wedding: 5/18/18
---
Venue: Jacuzzi Family Vineyards, Sonoma, CA
"I cannot express enough what a great job Debbie and Larry did. I was blown away by their professionalism and well-thought-out process. From booking, engagement photo session, wedding day to the photo album. They exceeded our expectations, they took very beautiful and memorable pictures of our lives. Our photo album and parent albums turned out AMAZING! Our friends and family loved every single photos. You can't tell that it was 100 degrees on our wedding day! I highly recommend Lily Rose Photography! "
Dyan and Derek Wedding: 9/10/17
---
Venue: The Maples Event Center, Woodland, CA
"Debbie and Larry are the PERFECT wedding photographers! From the first point of contact until the pictures and wedding album were delivered, they were absolutely amazing. Their attention to detail is impeccable. Debbie was so wonderful about answering my many questions. We communicated via email most of the time and she was always very quick to respond which completely set my mind at ease. Debbie is so incredibly organized so by the time our big day came, I had nothing to worry about. Debbie and Larry began our special day with capturing my "getting ready" session and they continued to capture our special day all the way through the ceremony and reception. Debbie and Larry captured shots that I didn't even know I wanted! I was blown away by their taste, creativity, artistry, and professionalism. My husband and I chose to do a "first look" session before the ceremony and Debbie orchestrated the whole thing! She made sure my husband was in the right place at the right time so that amazing moment could be caught on camera. I will never forget a single moment from our wedding because Debbie and Larry captured every single part! And then to my biggest surprise during our reception, Debbie handed me roughly two dozen mini Polaroid pictures of moments they had captured throughout the day. You know how tough it is to go through your wedding day and know that your photographer is capturing amazing photos but you can't see them?? Well, that's not the case when you work with Debbie and Larry!!! Receiving those Polaroids during our reception was literally the icing on the cake of the most amazing day! I just cannot say enough great things about Debbie and Larry!! They created the most spectacular wedding album for us. I have never seen one like it before. Thank you a thousand times Debbie and Larry for ALL your hard work, care, concern, professionalism, kindness, organization, and creativity."
Chelsey and Kris Wedding 4/14/17
---
Venue: Napa County Courthouse, Napa, CA
I couldn't imagined my wedding day any better! A good photographer is great, but a phenomenal one is where it's at! Debbie was beyond phenomenal. Debbie made us so comfortable that it felt like she was apart of the wedding. She just blended in and got fantastic shots! The pictures were so great and I continually get compliments on them. I was so impressed by her work! At the end of my wedding day I had Polaroids in hand and she even sent me a few pictures so I could share with my friends and family. My full package of photos was ready so fast and they are so beautiful. I will forever be grateful for Lily Rose Photography. If you have ran across this review I suggest you reach out to Debbie and talk to her. You will see exactly what I mean about her being phenomenal ❤️
Kat and TIm Wedding: 1/5/18
---
Venue: San Diego
"My partner and I love the beautiful photos of our wedding day and the album! The photos included such thoughtful touches that showcase each of our personalities. I also love the candid style of the photos, which made even posed shots genuine. I can't recommend Lily Rose Photography highly enough!!"
Kate and Sonia
---
Venue: The Maples Event Center, Woodland, CA
5 stars isn't nearly enough for Lily Rose Photography! Debbie and Larry are seriously artists and their photos look like they're straight out of a magazine. They just shot our wedding last weekend and we already saw remarkable pictures that they printed out for us on Polaroid film to take with of us on the night of the wedding. Talk about thoughtful and immediate gratification! We are so excited to see the rest, but from what we have seen so far we know they will be excellent. On top of being truly professional and an amazing team, they really think of everything. With our wedding package, they had a free engagement session to teach you how to pose with your significant other and we found this time super useful for the day of the wedding. On the day of the wedding they were a well-oiled machine, and flexible to adding spontaneous ideas to our planned shot list as we came up with them. One of the coolest things I've seen so far is what they were able to do with our cake. The cake we ordered had a symbol on the back and front and a cake topper that could only be read in one direction. However, the cake was put together backward by the bakery. Debbie somehow was able to take shots of both sides and put together a picture of the cake as it should have been! Wow, just wow! We are SO happy we choose Lily Rose for our special day and I cannot recommend them highly enough! They are absolutely worth every penny!
Ryan and Linsey Wedding: 9/17/17
---
Venue: Cline Cellars, Sonoma, CA
Lily Rose Photography FAR exceeded our expectations. We chose them because the quality of their sample pictures for their price was much better than competitors, and the service and picture quality for our wedding was perfect. Debbie and her husband captured every photograph we wanted and had their own list of fantastic ideas. Their pictures captured the beauty of the vineyard and the day exactly how we wanted it. They were friendly, professional, and knowledgeable. I would recommend them to anyone - we're even hoping to fly them out to the east coast to photograph future family events!
Brianna and Kevin Wedding: 07/10/17
---
Venue: The Maples Event Center, Woodland, CA
I have nothing but positive things to say about Debbie and her husband. They do phenomenal work and are a well-oiled machine together. My husband and I are very awkward when it comes to being in front of the camera and they worked with us right off the bat to get us as comfortable as we could be in front of the camera. From the engagement pictures to the wedding photos, everything was incredible. I highly recommend using Lily Rose Photography for your next event as I know they will not let you down.
Caity and Daniel Wedding: 10/21/17
---
Venue: Torrey Pines Lodge, San Diego, CA
I would HIGHLY recommend Lily Rose Photography for any huge moment in your life (literally any excuse you can find... call them!). They shot my sisters wedding a year before mine in Napa and my wedding was in San Diego... and without even so much as a pause for thought, they came to be a part of my big day! As the bride, I spent most of my time with Debbie and let me just tell you - she is truly INCREDIBLE! She has an eye for detail and is just the sweetest human being I've ever met. Not only did she and her husband capture all of the special moments on my wedding day, but they then went out of their way to give me and my new husband another romantic photo-shoot the next day since we didn't have a whole lot of time for pictures together on our big day! Our wedding day was a blur of excitement, but our pictures speak one thousand words. I cannot thank Debbie and Larry enough and rest assured they will be my first call for any future photos!
Nicole and Tyler Wedding: 07/16/17
---
Venue: Downtown Napa, Brix, Napa, CA
I highly recommend Debbie! My husband and I eloped in Napa and did all the planning from thousands of miles away. I did a TON of research on everything from venues to makeup artists. I'm SO happy I came across Lily Rose. I wanted amazing photos to show my friends and family who weren't there to witness the event, but I didn't want to break the bank either! Debbie was the perfect option for us. She was laid-back like we are, but she did an amazing job of wrangling the rowdy boys we had in our crew! Great sense of humor and INCREDIBLE photos. Can't recommend her enough! Trust me, I've done the research, and she is hands down the best option in the area and totally affordable!
Susan and Jag: Wedding 07/1/2017
---
Venue: St Helena Catholic Church; Culinary Institute of America: Greystone, St. Helena, CA
"I'm not even sure where to start with this review. Debbie and Lawrence have an absolutely breathtaking eye for creativity in their photos. I was hooked on their portfolio the second I saw it. I was also overjoyed when she sent me her package information and I found that she was well within my photography budget. It was just a no-brainer for me. I knew I had to book her as soon as I could and I am so glad that I did. Not that there was any doubt in my mind, but the memories and moments from my wedding day that her & her husband Lawrence captured are so elegant and beautiful that they honestly took my breath away when I saw them. I have received compliment after compliment on our photos. Make this the easiest decision you make in planning your wedding - hire Lily Rose Photography!! You will not regret it! THANK YOU x 1,000,000 Debbie & Lawrence! "
Kristi and Chris Wedding: 06/12/2015
---
We love Debbie! When I first reached out to her to meeting her in person, I knew she was the one to capture our special day. Capturing our engagement session to bring us outside of our comfort zone and see it create great portrait we love to our wedding day from start to finish. Debbie and her husband Larry are great to work with, they truly captured all the details of our special day. They are very professional, but down to earth, and so easy to work with. Trust in their craft and you will get gorgeous, priceless portraits to cherish a lifetime.
Sarena and Robert Wedding 8/30/2015
---
Debbie and Larry are a dream team, they have a great vision, very professional, easy going and WONDERFUL to work with. When I spoke to Debbie over the phone to meeting her for the first time I know she was the one to capture my wedding day. We had a great experience from start to finish, we even had our engagement session, which really broke us out of our comfort zone and let us truly capture a different side to us in our photos. Which one main photo we used at our wedding to showcase and was not the normal posed photo, it's a photo everyone still talks about. Our experience with Debbie & Larry was truly complete with our wedding day, they truly captured it all and the photos are truly priceless. Debbie helped me stay calm and my husband keep it together especially before the ceremony. First look is a MUST, the emotions and every moment captured. Overall there is no other vendor to look into, trust me Lily Rose Photography is top notch!
B&J Wedding: 8/23/15
---
Venue: Geyserville Inn, Geyserville, CA
We could not have asked for better Photographers! Lily Rose is a husband and wife team. They are professional, extremely talented, and very organized. They made us feel very comfortable while working with them and they executed our vision perfectly! I would recommend them to anyone!
Nicole and Chase Wedding: 6/20/2015
---
Lily Rose was amazing; I couldn't have picked a better photographer!! Their clam attitude is just what everyone needs during a wedding. The photos came back quick and were better than we could have imagined. Thank for Lily Rose for treating us like family!
Christine and Ronald Wedding: 4/25/2015
---
I met Lily Rose Photography at an event where she was the photographer. Loved her immediately. She flowed through the crowd flawlessly capturing people's smiles and genuine joy, without anyone realizing she was there. She was exactly what I was looking for. I hired her a month later without ever interviewing a wedding photographer. And I was not disappointed. She and her partner were outstanding. They were with us all day, guiding us and our guests at every single moment, with the highest level of professionalism and sincerity. I always felt beautiful and calm. Even our guests welcomed them and their cameras into their space, which resulted in the most wonderful photojournalism I'd ever seen. Later on, when my husband and I were looking through the gallery, he said tenderly, "I've never had anyone take such amazing photographs of me." Lily Rose, thank you. You went above and beyond our expectations, and our hearts will be forever grateful.
J&B Wedding: 3/14/15
---
Venue: Private Estate, Sebastopol, CA
We are so grateful to Lily Rose Photography. Debbie was very flexible with us. My husband and I were on a small budget, and Debbie was able to adjust our limited time frame to include all of the important events for shooting. She and her husband were efficient, professional, and patient when things were running a little behind or not according to plan. They captured amazing moments and made everything look so romantic and magical and beautiful. She offered us many wonderful discounts and custom items, showing us that she cared about us, understood our financial situation, and really wanted our satisfaction. We are so happy Lily Rose Photography was part of our wedding!
Zoe and Ryan Wedding: 6/8/14
---
Debbie and her team were amazing-- Debbie was incredibly flexible with me, as the bride, in terms of helping me find the right packaging, the right look and feel, the photos I wanted to have. She even rescheduled our engagement photos twice because of less than ideal weather conditions. At the wedding itself, she and her team were true professionals, corralling the bridal party and extended family when needed so I wouldn't have to worry about a thing, politely keeping the amateur photographers among our families at bay, and checking in with me frequently to ensure they were capturing the elements I hoped for. The pictures turned out beautifully and I would recommend her to anyone.
Erin and Sebastiaan Wedding: 9/28/13
---
Venue: Private Winery Estate, Napa, CA
Debbie, the owner of Lily Rose, has been absolutely amazing to work with. Her professionalism and skill are unparalleled, and she is unique in that not only she knows the technical side of photography, having gone to school for it, she also has natural eye for aesthetics and what would make a beautiful photo. I would highly recommend! Debbie has both a fantastic eye for a great photo shot and the technical ability to capture it. She is very professional and punctual but still a blast to work with. We had only 45 minutes for our photo shoot at the wedding, and Debbie has the perfect personality to make the best of it - she is succinct, authoritative while courteous to get the families/bridal parties/us arranged in a timely fashion. She advised on how to position our bodies to look best for the camera. She came up with creative shots. She was proactive in photographing so many details of people/scenery/decor in down times. At the end of a beautiful event, we have amazing photos to preserve these memories and now can't imagine anyone else capturing it better.
Anastasia and Ryan Wedding: 09/14/2013
---
Venue: Private Winery Estate, Napa, CA
OK, I know when you see 5 stars across the board you discount the review, but I am the skeptic about weddings and vendors and selected our wedding vendors in a very thorough manner. I had heard that you don't skimp on the photographer, because after it is all over, you are left with memories and photos, and to this I couldn't agree more. Debbie was fantastic through the planning process, and she traveled to meet with us for meals, at our place for planning with our wedding planner, and allowed us to stop by Sacramento. We were looking for a pair of photographers that would do the set shots we wanted, but also give us the photo-journalistic photos that are more candid. So our second photographer was Debbie's husband and business partner Larry. Larry has at least as many years experience as Debbie, and if you listen to Debbie, Larry is the better photographer. I didn't believe this until I saw our wedding photos. They are both top-notch, and we couldn't find a better photographer for even double the money. My wife and I enjoyed our wedding in Napa, and save for one, have recommended our vendors to our friends. Though we aren't pushy, we do recommend strongly our cake maker and our photographer, and two of our friends have already, in the 4 months since our wedding, contracted these vendors. We are not at all worried about giving this "advice" because we know the quality will go beyond their expectations. If we had the wedding to do over again, I know we would change a few things (being your own florist is stressful the days leading up the wedding!). But if I was planning the event again, I would work the date around when Debbie and Larry were available to shoot the wedding. That is the strongest recommendation I can think of when planning a wedding. I wish you all the best in your planning process, and hope your wedding exceeds your expectations! Best, Ryan
Anastasia and Ryan Wedding: 09/14/2013
---
Debbie and Larry produce amazing work and are very talented. I am a very type A person and loved how organized and structured they were to help us get through the day, however some of my bridal party felt they were distant. They made sure to capture a variety of shots and didn't leave out any details. What you get is very well worth what you pay. Debbie also produced incredible engagement photos for us and was willing to travel! Thanks Lily Rose Photography!!!
Anonymous review received 10/5/12
---
Venue: Hannah Nicole Vineyards, Brentwood, CA
Deborah went out of her way to travel to our initial consultation. She brought samples of her work which were beautiful, and shared her love of photography with me along with a bit of her personal story. Her passion for what she does shows through in her work. She was very patient and responsive during the planning prior to the wedding giving advice providing good organizational tools. On our wedding day she brought a professional yet personable team. I've only seen a sneak peek of our pics but they look PHENOMENAL!!! I can't wait to see the rest and I know she truly captured all the beauty of our wonderful day. To top it all off she gives the rights to make your own prints.
Geannine Wedding: 08/11/2012
---
We would give Debbie and her team 10 stars if we could!
It was wonderful to work with Debbie and her team. We felt really comfortable with her taking pictures of us. She has a really relaxing composure about her, but a slight fun side to her. She encouraged us to express ourselves and live in the moment by saying "Do it! Go for it!" It was our day and she made sure it was! When my husband and I looked at all the photos after our wedding, if felt as if we were watching a movie! Debbie is truly an amazing artist who captured so much life from our wedding event into her stunning photos. I have no idea how she captured all the little details and gave it the attention it deserved by either creatively preparing it to be photo ready or shooting it from an angle where it's sheer perfection! She also went above and beyond for us in listening to our needs and making sure it was executed in a unique way. She always kept her eyes and camera on us and still managed to get everything and everyone! We loved every single photo! It is clear that she is more than passionate about her work. She is truly talented in what she does and we are so grateful to have had her as our wedding photographer. We couldn't have imagined or wished for a better one.
Tania and Mark Wedding: 07/21/2012
---
I could not have imagined what our wedding day would have been without Lily Rose photography! They captured every moment beautifully. They worked extremely hard in the 106 degree outside weather. My picky husband and I received hundreds of pictures we absolutely love-- hard to believe but true! The color, the poses, the fun, and the backgrounds captured are amazing!
Jacqueline and Adam Wedding: 06/16/2012
---
Venue: Geyserville Inn, Geyserville, CA
We could not have asked for better Photographers! Lily Rose is a husband and wife team. They are professional, extremely talented, and very organized. They made us feel very comfortable while working with them and they executed our vision perfectly! I would recommend them to anyone!
Nicole and Chase Wedding 06/13/2015
---
Venue: Wine and Roses, Lodi, CA
Debbie of Lilly Rose Photography was beyond a pleasure to work with. From the date of our very first meeting to Our Wedding day she was attentive, calm, reassuring and excited about the ideas we had for our pictures. Her professionalism and the quality of the pictures was more than I had even hoped for.
After hearing many wedding Photography disaster stories from co-workers, friends and family members I was nervous that the same could happen to me but Debbie put my concerns at ease and assured me all will go well, and it did! I LOVE... LOVE... LOVE my pictures and always receive wonderful compliments.
Lily Rose Photography is one of the very few vendors who will give you printing rights to ALL the shots taken, not just the few you can afford to purchase after paying a steep fee already. And believe me you will want all the Shots if Debbie and her crew have shot them!
Andrea and Dustin Wedding: 06/03/2012
---
Venue: Arden Hills, Sacramento CA
Lily Rose was amazing, I couldn't have picked a better photographer!! Their clam attitude is just what everyone needs during a wedding. The photos came back quick and were better than we could have imagined. Thank for Lily Rose for treating us like family!
Christine and Ronald Wedding 4/25/2015
---
Debbie was very easy to work with and very very professional, asked for a lot of details and definitely was paying attention to every little thing. She and her husband also kept us on track on the day of the wedding.
Dana and Leo Wedding 10/26/2014
---
Venue: Clubhouse at Rancho Solano, Fairfield, CA
My husband and I had a fantastic experience with Lily Rose Photography! They were very professional and both Debbie and Larry made us feel very special throughout the entire process. They were quick to respond to our questions and needs. Also, they did everything that they can to make our wedding day the most special and memorable day. I would hire Debbie and Larry again in a heartbeat!
Yvonne and Chris Wedding: 09/24/2011
---
Lily Rose is the absolute best. Debbie is very quick to respond and is the master of everything the day of the wedding. She did my brother's wedding prior to mine and I'm glad we chose her to do our wedding as well!
Melissa and Rusty Wedding: 9/6/2011
---
Venue: Private Estate, Lincoln, CA
Debbie, You have an amazing intuitive eye for photography to the point that I am have a challenge picking pictures to reproduce. Thank you for going above and beyond to make our photos exquisite. In addition, thank you and Larry for your drive and passion to make our wedding days memories last a lifetime.
Thank you, -Julie and Paul Wedding: 11/11/2011
---
Venue: Arden Hills, Sacramento, CA
Where should I begin? Debbie is amazing to work with and I highly recommend her! She is by far the BEST vendor I used for my wedding by far. She exceeded my expectations in every way! She was nice, honest, easy going, willing to travel for not just the wedding but also the engagement shoot, reasonably priced for what you get, on time, timely in getting photos to me, made sure I had sneak peaks within a day or two and actually cared! I met her at a bridal show and scheduled a meeting with her, my mom, fiance and myself. It was an instant click and a no brainer. We got stuck in traffic and were almost 30 minutes late to our hour-long engagement shoot in Napa but Debbie was understanding and made it work. A day or two later, I had a sneak peek and then within 2 weeks the photos were online for us to build my engagement album which we choose to make into a guest book album. About two weeks later, we had our album already. The photos were amazing! At our wedding almost every guest made a comment on how beautiful and unique our guest book was. She did little things that made this experience special for us like sending us a note with a little surprise to help to prepare us for our big day and a call the week before the wedding where she was thinking of coming into town a day earlier (she past Sacramento and we are near San Francisco) and offered to photograph our rehearsal dinner if it was on that Friday and she was here. It was Thursday so that didn't work but then she said that if she came a day early and I needed help with wrapping my favors, she would help with that too! Not even my bridal party offered that! Day of the wedding, she brought Lindsey as our second shooter. Lindsey was with the guys for their getting ready photos and they are all still talking about how awesome Lindsey was. Both Lindsey and Debbie complimented each other so well and we all felt at ease and comfortable with them both! They took what must have been a million photos and it was almost like they weren't there most of the time. They did the formal photos and then stepped back and let the day happen. I am getting all of the photos later this week but the few they showed me at the wedding and the sneak preview I got a few days after are amazing! I even made one my yelp profile pic! I really cannot say enough good things about them! Both Debbie and Lindsey did an amazing job and surpassed all of my expectations!
Christina Wedding: 10/29/2011
---
We have loved working with Larry and Debbie at Lily Rose Photography. They have delivered nothing but five star service. Value: Our package included an engagement photo session which provided the photos for our 11x13 guest book album as well as one day of photographer, a traditional 9x11 wedding album, and two matching parent albums. We ended up with over 1000 photos of our wedding and reception and over 100 engagement photos, all of which were incredible. It made finalizing the albums difficult. Service: While we worked with both Debbie and Larry before and after the wedding, Larry was our actual wedding photographer. Larry took the time to scout out of our venue the day before, as this was his first time shooting Mission Ranch. Day of, he showed up right on time and ready to go. He was busy taking pictures from the time he walked in until the moment he left but he never felt intrusive. There were several times when we forget he was even there. We returned from our honeymoon to find our album proof ready for our review. They took the time to walk us through each page and offered several suggestions to help us personalize the album and enhance each photo. If we had it to do all over again, we would absolutely use Lily Rose.
The Jewell's 8/15/2011
---
Debbie Norman and Larry Labrot were amazing. They made the entire family feel at ease. We consider them family members after our daughters wedding. Before the wedding I had no idea what an impact the pictures would have after the event. It was clearly the best money spent on the wedding because it's what we have to remember one of our families most Amazing Events. Everyone who sees the pictures asks us for a business card, and wants to know who was in charge of photography. It's rare that I can say everyone looked great in the pictures, but Lily Rose really worked magic for us. Not only would I recommend them, I would highly advise anyone getting married to hire them quickly before they are booked.
Karla and Mark (Parents of the Bride) 04/01/2010
---
Venue: Private Estate
Debbie and Larry were amazing. We had the pleasure of working with them for both our engagement photos as well as our wedding. We could not be more pleased with how they both turned out!! Many people that attended our wedding (family and friends) are photographers and they came up to us before we even saw the pictures and told us they knew they would be great. They said they were very professional and could see that they "knew what they were doing." Our guests were more than right!!!! Our photos were breath taking!!! People are still talking about our wedding….but we have the most amazing photos to recreate all those moments. We could not be more pleased. Thanks
Erica and David Keller Wedding: 04/01/2010
---
Venue: Hannah Nicole Vineyards, Brentwood, CA
Great Photographer! Great Pictures! I would highly recommend!
Gina Martin 12/30/2009
---
Venue: Galletto Ristorante, Modesto, California
She was a wonderful photographer, she knew exactly what to look for and she was very good at catching quick moments. When doing all the family photographs, she didn't miss anyone, she made sure to get both sides. She was great to talk and hang out with too and she helped me a lot throughout the wedding with little things with my clothes and carrying things for me and calming me down in hectic situations. She was all around a great photographer.
Amrita and Brian 12/17/2009
---
Venue: Clubhouse at Rancho Solano, Fairfield, CA
I would highly recommend Lily Rose for any special occasion you wish to capture on film. We hired Debbie with Lily Rose for our wedding this past October for our wedding. We could not be happier with the results. We had a great engagement photo session with her and new we were in good hands for our wedding! Her assistant Sheila is really great too, answering emails and questions quickly. Debbie was great on our big day and really fun to work with. We had two photographers on our wedding day and it was great that they were there all day! The photos are just amazing, and we couldn't be happier! Thanks Debbie! -Carrie and John 12/9/2009
---
Venue: Private Estate
Deborah and Crew were amazing. They sent 3 very qualified photographers to our event. This was a second marriage, so we wanted something a bit more unique. Not the standard wedding shots of everybody in a row at the alter. And wow, did Deborah and crew deliver. Our shots are unique, colorful, beautifully lit and exactly what we wanted. She has an amazing eye and is a pleasure to spend the day with snapping away. I work in the wedding industry and see 3 different photographers every weekend working with other brides. But I have to say, that MY photographer was incredible. I have already referred out to my personal clients. Cheers to Lily Rose! - Carly and Dave 11/22/2009
---
Venue: Private Estate
The staff was very helpful from start to finish! They really listened to what we were looking for in our engagement photos and found us the perfect location to incorporate our ideas. I loved the photographers who came for the wedding! They were a lot of fun and again listened to what it was we were going for. We had a relaxed wedding and just wanted a lot of photos of everyone doing their own thing...Slip and slide, dunk tank...whatever! they were there for it! We couldn't be happier with our experience! - Shannon and Kiyoshi 9/27/2009
---
Lily Rose did a wonderful job. Debbie helped to keep me calm and happy so I could get the beautiful pictures I was hoping for! I would totally recommend them. - Robin and Justin 8/27/2009
---
Debbie is very easy to work with and is up to date on current features of photography. She is unique from other photographers in that she does not charge by the hour. The albums she puts together are contemporary and very high quality. I would definitely recommend her to other brides and grooms. - Teresa and Ryan 8/25/2009
---
Where do we start? Great Professionalism! Excellent communication! Wonderful Product! Our photographers were there for us from the very beginning! With our photographers we were able to take all of our engagement photos anywhere in the NorCal area. Throughout the planning process they were very professional and helpful in making sure we received EXACTLY what we wanted! On the day of the wedding we were given unlimited hours of photography. They were there from the moment we started getting ready to the moment our evening came to an end. Finally, they provided us with beautiful photos all packaged on a custom CD for our own personal use. The CD was light scribed with a photo of us on it and packaged in a custom designed CD case with another photo of us and our names and wedding date. WE LOVE LILY ROSE PHOTOGRAPHY!!!! - Sincerely, Mr. & Mrs. Sessions 8/5/2009
---
Debbie was completely on top of everything at our wedding - she kept up on our scheduling and kept me calm when things started to go a little haywire. I would absolutely recommend her to anyone! - Megan and Daniel 7/2/2009
---
Lily Rose Photography did a wonderful job capturing our May 16, 2009 wedding moments! The professionalism and quality of Debbie Norman and her team (Shawna and Rob) at Lily Rose Photography is amazing! Our photos came out beautiful and could not tell our wedding day was 100 degrees. They were very patient with a crazy bride and a large wedding party! We chose the Daisy Package and was worth every penny, beautiful!! We have to mention, Sheila Waddell (Office Manager), she has been more than helpful w/ the behind the scenes of scheduling, photos, and details of the engagement shoot! We completely recommend Debbie Norman and the Lily Rose Photography team to capture any of life's memorable events!! -Dr. Cheryl Cabero - Cheryl and Marcelino 6/23/2009
---
I love working with Lily Rose and would recommend them to anyone. All of the staff is very helpful and organized. They listen to what you want and give helpful feedback. Not only are they professional but the photos are stunning. We had such a hard time picking our favorites because so many were wonderful. - Erica and David 6/11/2009
---
If you want glamorous shots done with an eye for detail then you need to hire Lily Rose Photography. Debbie is an absolute artist. I have gotten rave reviews from everyone who has seen our pictures. I was so impressed with her work that I have already booked her for another event, and referred her to a friend. - Marie and Bob 6/11/2009
---
Lily Rose Photography is awesome! I am so happy with how well our photos turned out. I knew they would be great, but the end product was way above my expectations. Debbie is really awesome and works well with her clients. Definitely a good choice for your wedding! - Liza and Paul 6/11/2009
---
Lily Rose Photography was great! They were creative and fun to work with. We love our photos! Debbie and Lindsey really did a great job and everyone who's seen our photos is blown away. Thanks! - Mientje and Mark 6/11/2009
---
Venue: Dreams Los Cabos Suites Golf Resort and Spa, Los Cabos, Baja California Sur, México
Debbie and Rob were absolutely amazing when they worked our wedding in Los Cabos, Mexico. At a time when everyone was stressed out, these two were abundantly cool and professional. (My wife and I were NOT thrilled with the options available locally in Cabo so we looked around and "interviewed" people we found that had the right eye and a photo-journalistic approach to wedding photography. It was by chance that Lily Rose was at a wedding convention in San Francisco we attended.) After choosing Lily Rose, we got a package that included an engagement photo session and this was where we really saw how focused Debbie is while on the job. She huffed along with our dog in tow and never complained - a minor miracle considering our dog's temperament... But this was the first sign of the good things to come. Months later in Mexico, Debbie and Rob showed up and made themselves available for whatever we needed. It's amazing how two people can become so embedded in the memory of such an important day - Debbie helping my wife relax between photos and Rob keeping me calm while I worked out both nerves and a SERIOUS hangover...and the photos. WOW, the photos... My wife and I were simply blown away when we saw how these two were able to capture the most amazing details as well as the bigger shots. I cannot begin to explain how badly I want to recommend Lily Rose Photography to anyone who is considering them for their wedding or other event. I'd love to pay forward the luck we had.
Tara and Patrick Wedding: 11/9/2009
---
My husband and I are very happy with our wedding pictures. We did our research and attended all the bridal shows and found that Lily Rose Photography offered the professional pictures that we wanted. On our wedding day, our photographers were there and ready--they were very patient, non-intrusive and they managed to capture all the details of our wedding day.
Lynette and David Wedding: 10/28/2008
---
We enjoyed everything about working with Debbie and her team. The pictures were fantastic, her work ethic and attention to detail was great and her patience and ability to work with everything on the day of the wedding made it easier for me to enjoy myself.
Michelle and Chris Wedding: 10/21/2008
---
Picking a photographer is much like picking a fiancé. You need to make sure you've got the right one because you're going to be with them for the rest of your life. We maybe not with *them,* the photographer, per se, but you will have their work forever--and you need to make sure that you're absolutely comfortable and trusting of what they're going to do with you. When we were first interviewing photographers, we experienced that fit Debbie Norman of Lily Rose Photographer. Not only was her work beautiful, but she had such a calm and soothing presence about her than made us trust her implicitly. As someone who hates taking photos, this was incredibly important to me. As part of her packages, she offers an engagement session where that perfect fit became even more apparent. She got to know us--how to best shoot us--and we got to know and be comfortable with her. Plus when we got the proofs we absolutely loved them. When the big day finally rolled around, we just slipped right into the mode. Debbie and her assistant Lindsey were right there capturing everything, but in a totally non-obtrusive way. They made sure to get the shot, but for the most part, I didn't even know they were there. Plus they managed some of the big group shots with absolute confidence and grace. While we haven't get gotten the photos, we know they're going to turn out great--and we know we have found our photographer to capture the rest of our important moments in our journey together.
Wedding: 7/20/2008
---
"Thoughts, quotes, and philosophies - good or bad - cause us to evaluate ourselves.
And that is good." - Richelle E. Goodrich
Lily Rose Photography © 2023 - (707) 603-9062 Address: 1055 Broadway, STE. E1, Sonoma, CA 95476 debbie@lilyrosephotography.com Privacy Terms of Use